Pen Drive/External Disk No Media in Disk Management or Diskpart [5 Fixings]
User's Story
The other day I connected my thumb drive to my laptop Windows 10, there was usb no media detected under 'Disk Management'. It said 'Disk 1 Removable No Media' for my 5 years old removable storage drive that I used to store videos for my mobile as an external backup device. I was upset for a while and would someone tell me how to fix the error for my flash drive?
My external hard drive shows no partition under disk management and it displays disk 1 no media 0 bytes, is it corrupted and cannot be read by my computer? I am using a Windows 10 Asus and the external usb disk suddenly cannot be detected and the external usb disk no media showed up.
This 'No Media' error not only happened to pendrive, external disk, but also applied to SD, MicroSD card or even your internal hard disk when there was error on your device that could not be recognized by computer disk management, no media in diskpart cmd or it just did not show up what it was expected.
Table of Content
Symptom 1 — Disk No Media in Disk Management
Something may go wrong when your connect your pendrive or hard disk to a Windows computer like Windows 10/7 and it reported 'Disk 1 Removable No Media' in disk management where the computer manage its digital storage devices. How to fix no media usb problem in Windows 7/10?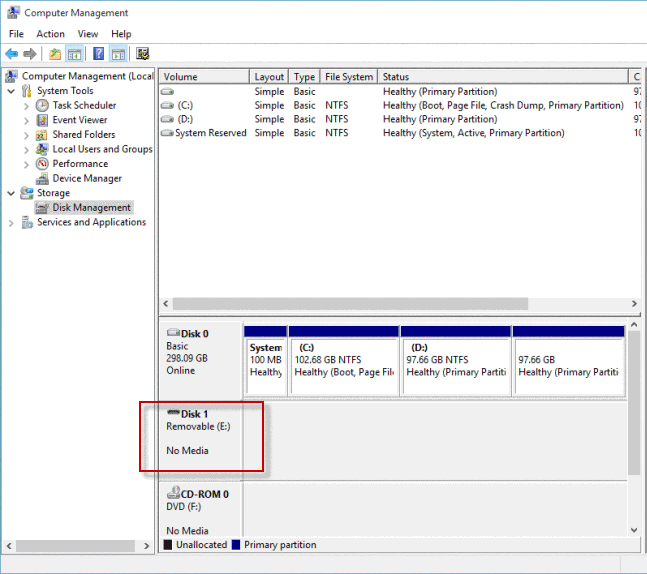 Disk 1 No Media in Disk Management
Symptom 2 — USB Disk No Partition in Disk Management
The external hard drive shows no partition in disk management and a healthy external hard drive would dislay a list of partition volumes besides the disk information.
usb no volume
usb drive shows no space
Symptom 3 — Diskpart Reported 'There is no media in the device'
Some advanced users may have experience in diskpart in fixing devices and now this time when you try to use Diskpart command promopt to clean/format your disk or usb flash drive, it reported virtual disk service error: There is no media in the device, which means diskpart is telling the specified media could not be found.
Then Diskpart could not continue to perform the next processure for your device since it cannot be detected.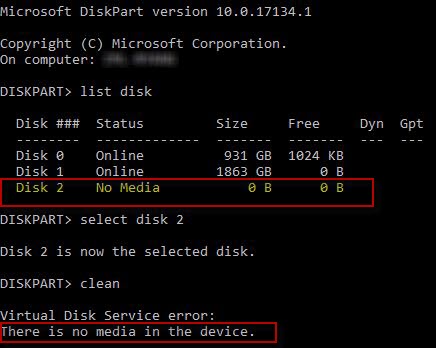 Virtual Disk Service error: There is No Media in the Device in diskpart
Symptom 4 — Disk * No Media 0 b 0 b
The same photo from symptom 2 in Diskpart shows that the information after you type 'list disk', the report tells 'Disk 2 No Media 0 b 0 b' which means the disk 2 can be detected as status no media and it is 0 bytes in size and 0 bytes in free space. Sometimes it would show 'disk 1 no media 0b 0b' if your drive is showing the disk 1 in your computer disk management.

Disk 2 no media 0 B 0 B
It is also telling there is something wrong with the disk that shall be repaired.
Symptom 5 — USB Disk Format Tool Error 'There is no media in the specified device'
Sometimes even if you could see the usb flash drive or removable disk in my computer, however when you format it with format utility such as HP USB Disk Storage Format tool, it would also feedback another message 'There is no media in the specified device'. See what it shows in the following image.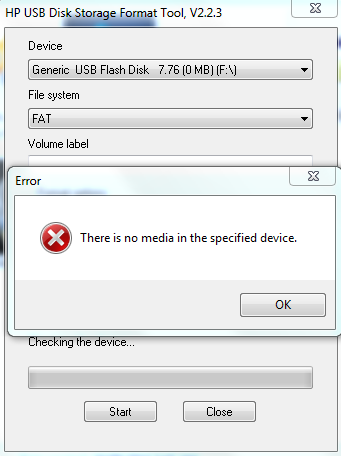 There is no media in the specified device
Free Data Recovery Software for Disk No Media Error
Recovering files from usb flash or disk that reported no media under disk management or in diskpart would not be complicated that you may all manage the DIY data recovery with a free tool from iCare.
Free Disk Drive/Memory Card No Media Data Recovery Tool

Free Download Tool to Recover Data from Disk Reported No Media , and perform a free file recovery from your not recognized device.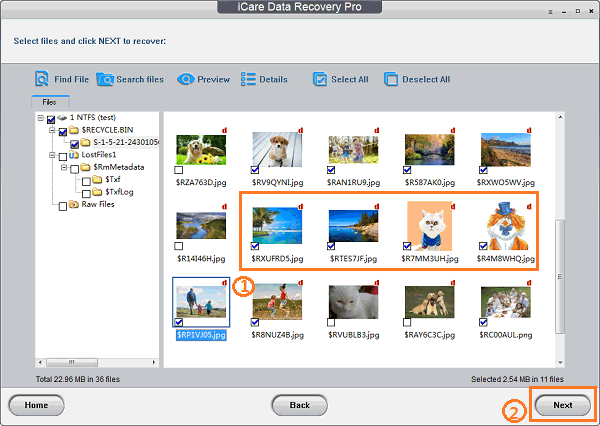 5 Efficient Ways to Fix No Media in the Device in Windows 10/7
Here we would list 5 ways that may mostly work for fixing the error no media problem for your usb flash drive, hard disk, or your memory card that are not showing up in your computer Windows 11/10/8/7. Before moving to the key points, here are some factors that you need to know that may cause the error.
Non-repairable : The device(SD/USB FLASH/REMOVABLE DISK/INTERNAL DISK) is failing with physical damages that could not be repaired by software (Physically dead) — you will just let it go
Can be fixed: The computer usb socket is damaged — you will try it on another computer, Windows 7, Windows 10, or other different computers that you may get per your resource.
Repairable : Logical damages that could be repaired by tools or updating its drivers
Method 1 — Change a usb port, try another computer, another OS
To determine its the error from the storage device, you may simply try the flash drive or disk on another usb socket, or try it on another Windows 10, Windows 7 computer to see whether it will show the same error in Disk Management or same error from Diskpart.
Try another usb port, better try it on another computer
*Method 2 — Change Disk No Media Drive Letter in Disk Management
This one shall be operated under 'This PC' -> 'Manage' -> 'Disk Management'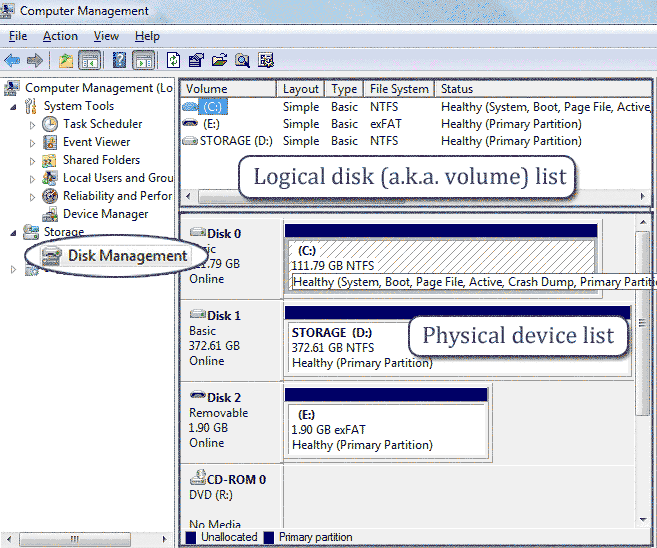 Open disk management
Find your disk that has no media error in disk management and then right click this disk to select option ' Change Drive Letter and Paths. ' and then assign another new drive letter for your usb flash or disk.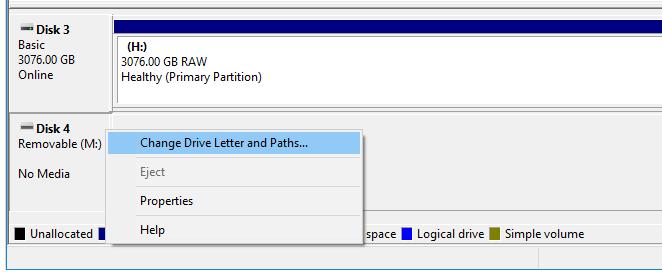 Change Drive Letter and Paths for Disk no media error
If it does not work, you may try to delete the disk under disk management, unplug it, load it again and then add your disk as new one by initiating it under disk management.
* This one would be considered as the most efficient method for fixing the no media error.
Method 3 — Repair its logical errors by Error-Checking
This method is efficient when your device is logically damaged after some virus infections, power surge, software failure damages, improper operations. And the device became unreadable.
Steps: Double click 'This PC' -> Right click your device in your PC -> Property
And here are the next steps that you may find in the following photo to start repairing your damaged flash drive/card/disk.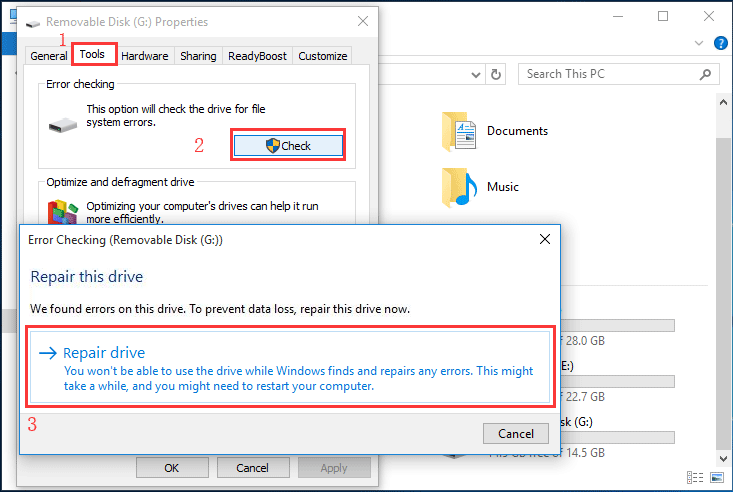 Repair no media usb by error checking in Windows 10
If it is a Windows 7/Vista/XP computer, you may process the following steps and operations.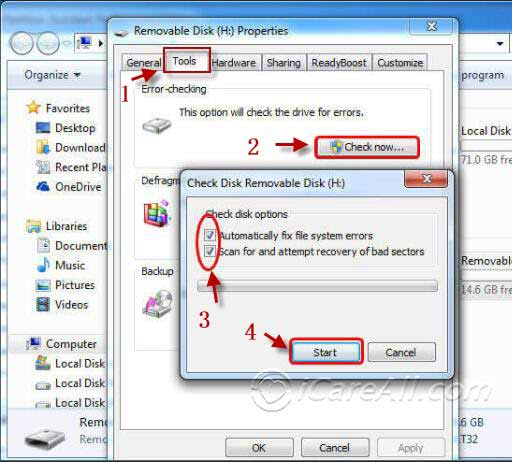 Repair no media usb by error checking in Windows 7
Method 4 — Repair No Media Error by chkdsk /f /r
You may try to use 'chkdsk /f' in diskpart to fix the no media error, here h represents your drive that you need to change the letter to the one that you media stated such as disk 1, or f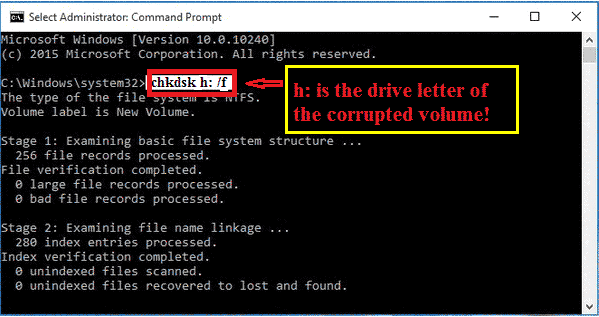 CHKDSK to repair disk no media error
The following photo is trying to fix the damaged i volume with command line 'chkdsk /f/r i:' that you need to replace i: with your own drive such as disk 1 or disk 2 or some other drive letter that you corrupted media shows in your computer.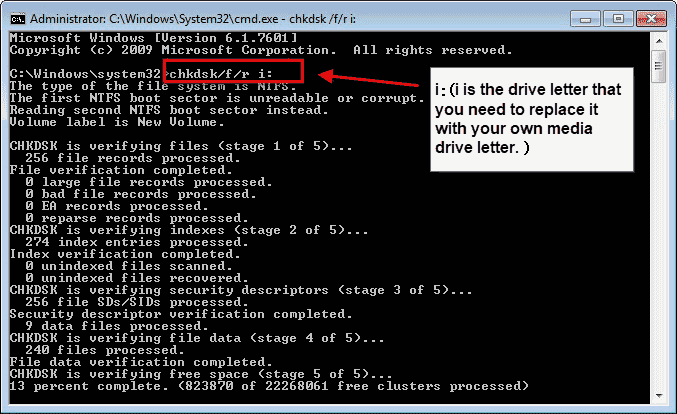 CHKDSK /f/r to repair damaged device
Method 5 — Update Disk/USB/Memory Card Drivers
The outdated driver of your storage device may lead to it to be unknown in your computer. Here are some ways that you may use for reloading your disk/flash drive or memory card drivers.
#1 — Go to 'Device Manager' under computer management that you may access it by right clicking 'This PC' -> 'Manage'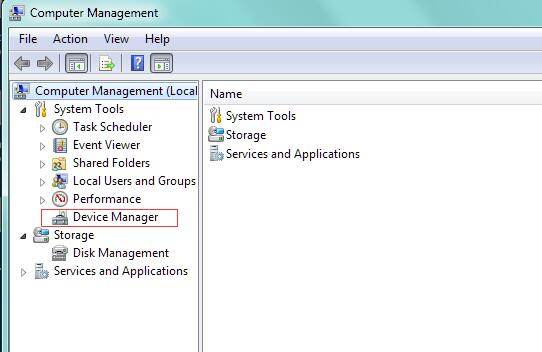 Reinstall device driver
# 2: Find your usb/disk/memory card in the list, right click it ->uninstall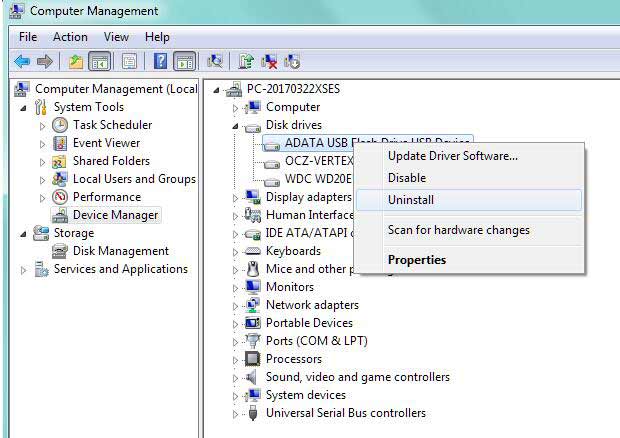 Reinstall drive step 2
# 3: Plug your storage device to your computer again , come to 'Device Manager' -> Action -> Scan for hardware changes to reload your disk or memory card again.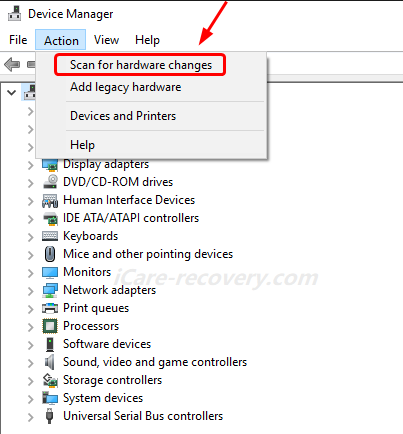 Scan for new hardware changes under Action
Or here is another video that teaches you to update your usb flash driver.
Brief summary: you need to download a free tool called ChipGenius from usbdev.ru
And it would extract your usb information and guide you to download a updated driver from its manufacturer for your device.
Note: The feedback from users varies that sometimes it worked while sometimes it did not work due to complicated usb flash drive damages.
Video — How to repair damaged usb flash or disk
Best free disk no media fixing — format it
Or you may watch the following video to know better how a damaged usb no media can be fixed.
What if chipgenius does not work? Read the following solutions
Question — How to fix no media usb problem windows 7
Answer: You may follow the 5 free ways mentioned above to get the usb no media problem fixed in Windows 11/10/8/7 or even Windows XP, Vista.
Question — Chipsbnk flash drive no media error fix
Answer: Chipsbnk flash drive is no different that the rest branded flash drives such as hp usb flash drive, sandisk usb flash drive. The repairments for the damaged chipsbnk flash drive would be the same as the ones we mentioned in this article for all digital storage devices. FIRSTLY, RECOVER DATA FROM THE THUMB DRIVE, THEN REPAIR THEM WITH FREE TOOLS.
Question — Asmt 2115 usb device no media
Answer: Some users may wonder why there was disk no media and asked to format problem when your usb disk shows Asmt 2115 usb device no media in device manager, it only proves that the Asmt 2115 usb disk is damaged for no matter what kind of possible damages on the disk. To get it repaired, you may also follow the above mentioned processures for repairing the damaged asmt external usb.
There Is No Media in The Device USB Error — Fixed
In the trouble of "There is no media in the device" while accessing files on USB or running format or clean command in Diskpart on Windows PC? Find causes and solutions here.
By Lucas
/ Last Updated August 18, 2022
Diskpart No Media Error
"I have a Kingston USB drive that seems not working well so I decided to reformat it completely. Run Diskpart as administrator and input these commands: list disk > select disk 1 (where 1 is my Kingston drive) > clean. And I got this error: Virtual Disk Service error: There is no media in the device. It does not allow me to run format commands as well. What should I do to get rid of this issue?"
Get into similar troubles like that? You may get a kindred error: There is no media in the specified device when you try to access files somewhere or create a recovery disc with that device. Sometimes, the device shows up in Disk Management with an empty box but does not show up in File Explorer.
In addition, the "device" is various because you can get "There is no media in the device" in HP USB Flash, SanDisk SD card, Transcend StoreJet, DVD/CD, Pen Drive, Memory Card, even SSD/HDD under different situations. Then, what are the possible reasons?
Why get "There is no media in the device" error?
When you get the error, it is suggested to unplug the USB drive and re-plug it to another machine to see if it is the problem with your flash drive. If it is, the following factors may account for the error.
в–¶ USB drive is failing or failed
Like a hard drive, a flash drive has a lifespan. If the USB stick serves you a couple of years, it may reach the end and fail gradually. Physical damage like stampeding, falling from a height, or frequently striking is likely to hurt USB drive as well.
в–¶ MBR or PBR on the device is damaged
Inappropriate use of the drive, like you unplugging the flash drive while it is in operation, is likely to hurt internal lookup tables on the drive and invoke corruption in Master Boot Record (MBR) or Partition Boot Record (PBR).
The error can also be caused by other unknown reasons that haven't been found till now. However, what counts next is to find out solutions that solve "There is no media in the device" issue.
Try to recover data from device with No Media error
To repair «There is no media in the device» error, you can first change the USB port or unplug & plug the drive several times, or connect the drive to other computers, maybe with different operating systems like Linux, to test if it works. If the problem still exists, follow these steps.
Tip: Do not write any new data to the device that has "no media" problem until you get it resolved.
Since some methods might cause data loss during the no media repairing process, you can do some overtures to recover files from it in advance. AOMEI Partition Assistant Professional can perform partition recovery for USB drives, SD cards, hard drive, and SSD. It provides full search and fast search to recover data on the deleted partition as long as no new data are written in. This software comes with a Demo version for a free trial.
1. Connect the device to a computer. Launch AOMEI Partition Assistant and click on Partition Recovery Wizard on the left side.
2. Select the device. You can tell it from disk capacity and brand.
3. Choose search mode, Fast Search or Full Search.
4. Select the partition you want to recover and click Proceed to start. Wait for the process to be completed.
For more information with screenshots, please visit how to restore partition on a USB drive. AOMEI Partition Assistant also offers sector-by-sector copy. You can try that by copying the USB to another disk entirely to see if lost data can be recovered.
Note: if the data on that device is very vital to you, and the aforementioned method does not work, it is suggested to turn to professional data recovery software.
Fixes for "There is no media in the device " in different cases
The «no media» issue can happen on a USB drive or DVD/CD disc, and different cases need different solutions. The following content will cover both of them. Keep reading, please.
Case A. fix USB no media in Windows 7/8/10/11
When you are not worried about the data on the USB drive/SD card/memory card/SSD, it is necessary to fix the error to make the device usable. You can do the following tries.
Method 1. Scan and repair the device in File Explorer
1. In Windows File Explorer, right-click the partition of the device and head to Properties > Tool > Check/Check now.
2. You'll find two options available: "Automatically fix file system errors" and "Scan for and attempt recovery of bad sectors". Check them both and click Start.
Tip: You can also run CHKDSK /f on a hard drive or partition. For more detailed steps, see: check and fix hard disk errors in Windows 10.
Method 2. Fix MBR for the "no media" device
If the issue is caused by a corrupted MBR, it is important to fix the MBR of that device. AOMEI Partition Assistant also provides the feature: Rebuild MBR.
1. Start the software and right-click the disk you want to fix and select Rebuild MBR.
2. At the pop-out window, select the MBR type for your current Windows operating system.
3. Click Apply to execute the pending operations.
The method is used for "There is no media in the device" SSD error or hard drive error. For more information with screenshots, please refer to Rebuild MBR Windows 10.
Tip: If you encounter the error on the current OS and have a recovery drive or installation disc in hand, boot Windows there and lift Command Prompt by pressing «Shift + F10». Input «bootrec /FixMbr» > «bootrec» /»FixBoot» > «bootrec» /»RebuildBcd». By default, it will rebuild the MBR of a current running system.
Method 3. Diskpart clean/format: there is no media in the device
If mentioned methods still don't work, then you can format or clean the device completely in Diskpart. However, some users report the error exists still in CMD. In that case, you need a professional formatting tool. The aforementioned AOMEI Partition Assistant can make it an easy task.
1. Open AOMEI Partition Assistant. Right-click the partition you want to format and select Format Partition.
2. In the next small window, edit the partition label and choose a file system and cluster size.
3. Click Apply and then Proceed to execute formatting.
AOMEI Partition Assistant also helps you wipe hard drive thoroughly.
Note: For certain brands of USB flash drives, there is usually a corresponding repairing tool. If you get the error «There is no media on the specified device» on Transcend flash drive or a pen drive, download the Jetflash Online Recovery tool, advanced new software developed for Transcend JetFlash flash drives, to recover and fix your stick.
For the USB drives that haven't specified formatting or repairing tools, it is a wise choice to try AOMEI Partition Assistant.
Case B. Fix "There is no media in the device" in DVD
If you come across no media error on a brand new CD/DVD disc, for example, create a recovery disc with CD/DVD, try this.
Click Start, type devmgmt.msc in the Search box, and press Enter. Click the right-pointing triangle next to "DVD/CD-ROW drives" to see if you have anything like a DVD. If not, the BIOS may not be detecting the CD disc. Make sure the data cable is not loose and the drive's electronics are not failed. Or, test the CD drive on another computer.
If the CD/DVD is detected by BIOS yet does not show up when you try to access it, you may need to perform a CD/DVD formatting before you start.
Summary
You may get "There is no media in the device" in all kinds of situations. And the most important thing is to figure out solutions accordingly. AOMEI Partition Assistant Professional is a powerful disk partition manager from which you can benefit more. For instance, move OS to new Samsung SSD, partition C drive without formatting, merge two partitions into one, and convert the external hard drive from MBR to GPT, and so on.