Fix: Omegle Error Connecting to Server
Error connecting to server. Please try again
Omegle is a chat room where you can video chat with a random stranger anywhere in the world and it's probably the most successful website for such as purpose. However, the site still struggles with the "Error connecting to server" error message which prevents you from using this service at all.
Omegle Error connecting to server
The problem is easily solvable and there are quite a few methods you can find all around the world. Still, we have gathered the most successful methods and presented them here on the site. Good luck!
What Causes Omegle Error Connecting to Server?
Among other causes, the error can be caused by faulty Internet connection settings which can be solved either by reacquiring an IP address and DNS server or by using a VPN to use different, fake settings.
Another often culprit is browsing data accumulating on your computer, either created by websites or by the Flash plugin. Deleting these cookies won't affect your browsing experience but it may solve your problem!
Solution 1: Use this set of Helpful Commands
This set of commands in run in Command Prompt and it can help you solve many network connection related problems. The thing is that this will rebuild some IP and DNS settings and reacquire some of them. Check to see if this method works out for you.
Search for "Command Prompt" by typing it either right in the Start menu or by pressing the search button right next to it. Right-click the first entry which will pop up as a search result and select the "Run as administrator" context menu entry.
Additionally, you can also use the Windows Logo Key + R key combination in order to bring up the Run dialog box. Type in "cmd" in the dialog box which appears and use the Ctrl + Shift + Enter key combination for admin Command Prompt.
Command Prompt via Run box
Type in the following commands in the window and make sure you press Enter after typing each one. Wait for the "Operation completed successfully" message or something similar to know that the method worked and you haven't made any mistakes while typing. Make a short pause between these two commands.
Reopen Omegle in your browser and check to see if the Omegle "Error connecting to server" message appears.
Solution 2: Use a VPN to Open Omegle
Using a VPN can be a tricky deal and you should always consult with your network provider in order to check whether using a VPN is okay. Using a VPN is also illegal in some countries so make sure you look up on this.
Various people have reported that using a VPN to open this website made it work so make sure you choose a proper tool to handle the job.
Solution 3: Delete Flash Browsing Data
Deleting this data can be done within your browser and this is one of the major solutions to the problem as Omegle uses Flash extensively.
Navigate to this link by clicking it and check under Website Storage Settings panel for the Flash loading. If it doesn't load automatically, click on Get Adobe Flash and a popup should appear prompting to run Flash so confirm it.
Macromedia Website Storage Settings panel
Under the Website Storage Settings tab, click on Delete all sites and confirm your choice. Restart your browser and Omegle should work.
Solution 4: Delete All Cookies in Your Browser
When certain sites fail to load properly, you can easily solve the problem simply by deleting all cookies you browser uses. Your browsing experience won't spoil yet you will be able to use the site normally again. This method doesn't work for everyone but it's worth trying it as it's easy!
How To Fix Omegle Error Connecting To Server
The Internet has made communication with friends and family members quite easy, now all it takes is a few seconds to connect with your loved ones with the help of instant messaging applications. In all this advancement, there's a new app called Omegle which connects you with strangers from all over the world. In case, if you didn't know, Omegle is a web-based online chatting service where you will get to chat with strangers for free.
Omegle allows anyone to meet new people and make new friends online without having to meet the person physically. The platform itself is very good with its concept and has already managed to gain millions of active users from all around the world. Omegle is a well-managed site if you're looking to make friends online or to simply hang out with people. Recently, we've been noticing a lot of users facing an error that says "Omegle Error Connecting To Server". The number of users facing this issue seems to be growing with each day passing, therefore, we've decided to come up with a solution for our readers. In this article, we have shared a detailed guide on how to fix Omegle error connecting to server under 3 minutes.
Why Are You Getting Omegle Connection Error?

Today I got a message from my friend that he is getting Omegle error connecting to server error. So I have open Omegle on my pc and start chatting with a stranger but I haven't get any error during a conversation. Then, I searched about this error and I found that Apart from the above mentioned error, users have also reported other problems regarding the captcha and sudden disconnections. However, the most famous one is the "Omegle Error Connecting To The server". Well, there could be several reasons behind the error, it's something which we cannot identify the cause.
However, it seems to be some sort of technical glitch within the Omegle website. The developers have already started working to rectify the issue at the earliest, but as of now, there's no official word from the team to follow up.
Fortunately, there are a few tweaks and workarounds that could help you in getting rid of this error. In case, if you think that the error is a result of internal problems therefore, it cannot be fixed by the users externally, then let me tell that's not the case here. Certain cases can be solved temporarily by applying a few tweaks and changes.
I have personally suggested these methods to my friend it worked well for him. So it's worth a try if you are getting error connecting to server Omegle.
Also, See – How to get Free EDU Email Address
How To Fix Omegle Error Connecting To Server
As stated earlier, there are a few settings that you have to make to resolve the "Omegle Error Connecting to Server" issue. Well, we've played with the settings for quite some time now in order to come up with a few methods that could help you to get through this issue.
Please note:- The methods which are mentioned below may not work for all, therefore, it's best if you try all the methods in order to solve the issue. But I can guarantee, one of these methods will work for sure!
Method 1:- Try Changing Browser
In some cases, such connectivity error shows up because of the browser you're using on your computer or laptop. Since Omegle is a video chatting site, it requires a compatible and optimized browser that could handle the connection without any problem. The best browser that is recommended for using Omegle is Google Chrome. Go ahead and download it for free and install it on your system.
In case, if you're already on Google Chrome, then switch to another well-known browser such as Mozilla Firefox or Microsoft Edge, as both of them are fairly good for handling such sites.
Well, this is a basic method that helped a few of the people who were facing the issue. However, it may very well not work for everyone, so move on to the next method if this one doesn't work for you.
Method 2:- Clear Cache and Cookies
In this method, you just need to clear out the Cache and Cookies of your browser before accessing the Omegle site. In certain cases, the old Cache and Cookies have caused this issue, making the user unable to use the Omegle site.
In order to clear Cookies and Cache, simply Open up your Browser's setting, search for Cookies and Cache option, and delete it. Now simply restart your browser and try again. (Check below Image)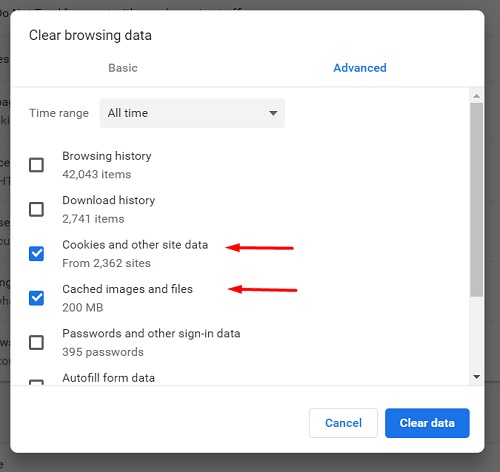 By this time, Omegle error connecting to server issue should have been fixed and you should be able to use the Omegle site as usual without any issues.
Note:- Different browsers have different methods of deleting Cookies and Cache, I am using chrome so I have attached a screenshot of my chrome browser in case if you don't know how to delete Cache and Cookie from your browser, then a simple Google search would help you out.
Method 3:- Try VPN Services
In some cases, Omegle connecting to server would show up because of the network you're using or because of your location. In such cases, it's best to use a VPN service that would mask your IP address. Hola VPN is one such service that works perfectly in such scenarios.
You don't need to download any additional software for it, Hola VPN comes in the form of an extension that needs to be added in the Google Chrome browser. Go to the following link to download and install Hola VPN extension in your browser.
Once the extension is successfully added, click on Hola Icon and select the server or country as per your wish. Now access the Omegle and connect to the server. In most cases, this method would work without fail. So, don't forget to give it a try.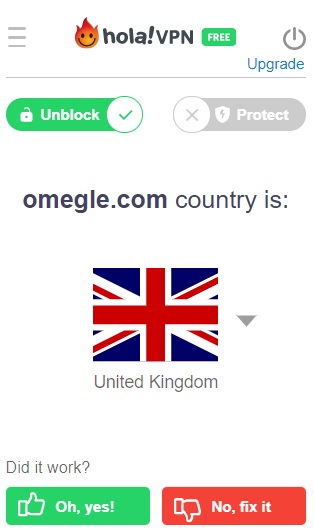 Final Words
The above-mentioned methods would definitely help you in getting rid of Omegle error connecting to server, Please Try Again issue. We've tried the methods and verified them before publishing. Go ahead and perform the above mentioned methods by yourself and see if it works for you. Let us know if you've something to add up to this article in the comment section below.
How To Fix 'Omegle Error connecting to server. Please try again' [Easy Guide]
Omegle is a website where you can talk or video chat with complete strangers and with some exceptions, it is a great platform to get to know people. However, recently some users have been getting the "Omegle Error Connecting to server. Please Try again" error while trying to load the website.
Omegle Error Connecting to Server
In this article, we have taken it upon ourselves to fix this issue by compiling this detailed guide with numerous solutions to help you completely rid yourself of the 'Omegle error Connecting to Server' issue. We have also listed the reasons which might be the potential triggers behind it.
What causes Omegle error connecting to Server?
Before we move on towards implementing steps to fix this error, we find it best that you look at some potential triggers that might be causing this error on your computer.
DNS Issue: DNS is a server that your computer connects to before connecting to the internet and for every website you connect to, your DNS configurations are used to make that connection. However, in some cases, your DNS server that you are using might have blacklisted the site and this might, in turn, prevent you from being able to connect. A good alternative in fixing the 'Omegle Error Connecting to Server. Please Try Again' issue, should be to flush the DNS cache.
Site Blocked in your Area: If you live in an area or a country where this website has been blocked, you will be unable to access Omegle and this error will show up when you try to connect. Therefore, you can use a VPN to unblock Omegle and this should in turn let you proxy your connection from another country where the website is unblocked, say the US for instance.
Cookies/Cache: If your browser has acquired corrupted cookie or cache data, you will be unable to access the website properly due to which the 'Omegle error connecting to server' issue will be triggered. Therefore, it is best that you try and clear out this cache and the site's cookies and check if the connection is then made. The method to do this has been listed below.
Firewall: Omegle can come off as a suspicious website sometimes and this prevents the user from being able to connect to it if their firewall has blocked the connection. Therefore, it is best to follow the method listed below and allow Omegle through your Firewall.
Now that you have been made familiar with the reasons behind this error, it's about time you move on towards implementing solutions to fix the 'Omegle Error Connecting to Server' issue.
Before You Start:
First of all, you need to monitor your internet connection. Make sure that you have a strong connection to use Omegle as it requires a lot of bandwidth to use the service. To resolve traffic for internet connection you can simply power cycle the router.
Take the power adapter of your computer and router out of the power socket and shut them down completely.
Now change the position of your router and bring it closer to your computer. We also recommend you to move other electronic gadgets away from the router as that might interfere with your network signals.
Now insert the power cable of the router back into the socket and when it acquires full signals, switch on your computer too.
Launch your browser and check whether you still encounter error connecting to server. please try again Omegle.
Исправлено: ошибка Omegle при подключении к серверу —
Omegle — это чат, где вы можете общаться в видеочате со случайным незнакомцем в любой точке мира, и это, пожалуй, самый успешный веб-сайт для подобных целей. Однако сайт по-прежнему сталкивается с сообщением об ошибке «Ошибка подключения к серверу», которое вообще не позволяет использовать эту службу.
Ошибка при подключении к серверу
Проблема легко решаема, и существует множество методов, которые вы можете найти по всему миру. Тем не менее, мы собрали самые успешные методы и представили их здесь, на сайте. Удачи!
Что вызывает ошибку Omegle при подключении к серверу?
Среди других причин ошибка может быть вызвана неправильными настройками подключения к Интернету, которые могут быть решены либо путем повторного запроса IP-адреса и DNS-сервера, либо с использованием VPN для использования других поддельных настроек.
Другим часто виновником является просмотр данных, накапливаемых на вашем компьютере, созданных веб-сайтами или плагином Flash. Удаление этих файлов cookie не повлияет на ваш опыт просмотра, но может решить вашу проблему!
Решение 1. Используйте этот набор полезных команд
Этот набор команд запускается в командной строке и может помочь вам решить многие проблемы, связанные с сетевым подключением. Дело в том, что это перестроит некоторые настройки IP и DNS и повторно получит некоторые из них. Проверьте, работает ли этот метод для вас.
Найдите «Командную строку», введя ее прямо в меню «Пуск» или нажав кнопку поиска рядом с ней. Щелкните правой кнопкой мыши первую запись, которая появится в результате поиска, и выберите пункт контекстного меню «Запуск от имени администратора».
Кроме того, вы также можете использовать комбинацию клавиш Windows Logo Key + R для вызова диалогового окна Run. Введите «cmd» в появившемся диалоговом окне и используйте комбинацию клавиш Ctrl + Shift + Enter для командной строки администратора.
Командная строка через поле «Выполнить»
Введите следующие команды в окне и убедитесь, что вы нажимаете Enter после ввода каждой из них. Дождитесь сообщения «Операция успешно завершена» или чего-то подобного, чтобы знать, что метод работает, и вы не допустили ошибок при наборе текста. Сделайте короткую паузу между этими двумя командами.
Снова откройте Omegle в своем браузере и проверьте, появляется ли сообщение Omegle «Ошибка подключения к серверу».
Решение 2. Используйте VPN для открытия Omegle
Использование VPN может быть сложной задачей, и вам всегда следует проконсультироваться с вашим сетевым провайдером, чтобы проверить, можно ли использовать VPN. Использование VPN также является незаконным в некоторых странах, поэтому обязательно посмотрите на это.
Различные люди сообщали, что использование VPN для открытия этого веб-сайта помогло ему работать, поэтому убедитесь, что вы выбрали подходящий инструмент для выполнения этой работы.
Решение 3. Удалите данные просмотра Flash
Удаление этих данных может быть сделано в вашем браузере, и это одно из основных решений проблемы, поскольку Omegle широко использует Flash.
Перейдите по этой ссылке, щелкнув ее, и проверьте в разделе «Настройки хранилища веб-сайта» загрузку Flash. Если он не загружается автоматически, нажмите «Get Adobe Flash», и должно появиться всплывающее окно с предложением запустить Flash, поэтому подтвердите его.
Панель настроек хранилища веб-сайта Macromedia
На вкладке «Настройки хранилища веб-сайтов» нажмите «Удалить все сайты» и подтвердите свой выбор. Перезапустите браузер, и Omegle должен работать.
Решение 4. Удалите все куки в вашем браузере
Когда некоторые сайты не загружаются должным образом, вы можете легко решить проблему, просто удалив все файлы cookie, которые использует ваш браузер. Ваш опыт просмотра не испортится, но вы сможете снова нормально пользоваться сайтом. Этот метод не работает для всех, но его стоит попробовать, так как он прост!
Гугл Хром:
Очистите данные своего просмотра в Google Chrome, нажав на три вертикальные точки в верхнем правом углу его окна. После этого нажмите на опцию «Больше инструментов», а затем «Очистить данные браузера». Чтобы очистить все, выберите настройку «начало времени» в качестве периода времени и выберите, какие типы данных вы хотите удалить. Мы рекомендуем вам очистить кеш и куки.
Очистка данных просмотра в Chrome
Чтобы избавиться от ВСЕХ куки, снова нажмите на три точки и выберите Настройки. Прокрутите вниз и разверните Расширенные настройки.
Откройте Настройки контента и прокрутите вниз до списка всех файлов cookie, которые остались после того, как вы уже удалили их на шаге 1. Удалите все файлы cookie, которые вы там найдете.
Настройки контента Google Chrome
Перезагрузите компьютер еще раз и убедитесь, что 2000 Network Error все еще появляется при просмотре потока на Twitch.
Mozilla Firefox:
Откройте браузер Mozilla Firefox, дважды щелкнув его значок на рабочем столе или выполнив поиск в меню «Пуск».
Нажмите кнопку, похожую на библиотеку, расположенную в верхней правой части окна браузера (слева от кнопки меню) и перейдите к «История» >> «Очистить недавнюю историю»…
Mozilla Firefox Clear Недавняя история
Есть довольно много вариантов для вас сейчас. В разделе «Диапазон времени для очистки» выберите «Все», нажав стрелку, которая откроет раскрывающееся меню.
Нажмите на стрелку рядом с «Подробности», чтобы увидеть, что будет удалено при выборе параметра «Очистить историю», поскольку значение не такое, как в других браузерах, и оно включает все типы данных просмотра.
Мы рекомендуем вам выбрать Cookies, прежде чем нажимать кнопку Очистить сейчас. Дождитесь окончания процесса и перезапустите браузер. Проверьте, исчезла ли проблема сейчас.